On February 10, 2016, Metropolitan Council released a
recommended C Line station plan
for public comments. The C Line is an Arterial Bus Rapid Transit connecting Brooklyn Center to Downtown Minneapolis and runs on Penn Avenue North. The estimated cost of the current plan is $30-$35 million dollars.
The recommended station plan was shaped by project planners and residents input collected during the planning process in 2014-2015. There are currently 23 stations, with 9 stations on Penn Avenue North between 43rd Avenue to Olson Highway. The line will connect to the future extension of both the Metro Green Line and Blue Line on Olson and 7th. More information on individual stations can be found
here
.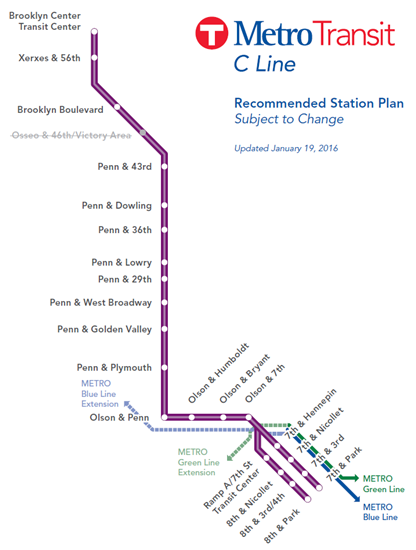 Metro Transit and Metropolitan Council is currently accepting public comments before finalizing the C-Line for detail engineer design and construction in 2017. Public comments are due on March 11, 2016 and can be submitted to
brtprojects@metrotransit.org
. Metro Transit will review public comments and begin the Metropolitan Council's approval Process after the March 11th deadline.

Future Transportation Opportunity on West Broadway
West Broadway Avenue is also in the midst of a transit study looking to implement a BRT line or street cars along the corridor. What are your thoughts about having a BRT line or street cars running East and West along West Broadway Avenue? What are some positive and negative impacts of implementing these new kinds of public transit services?
Let us know what you think.