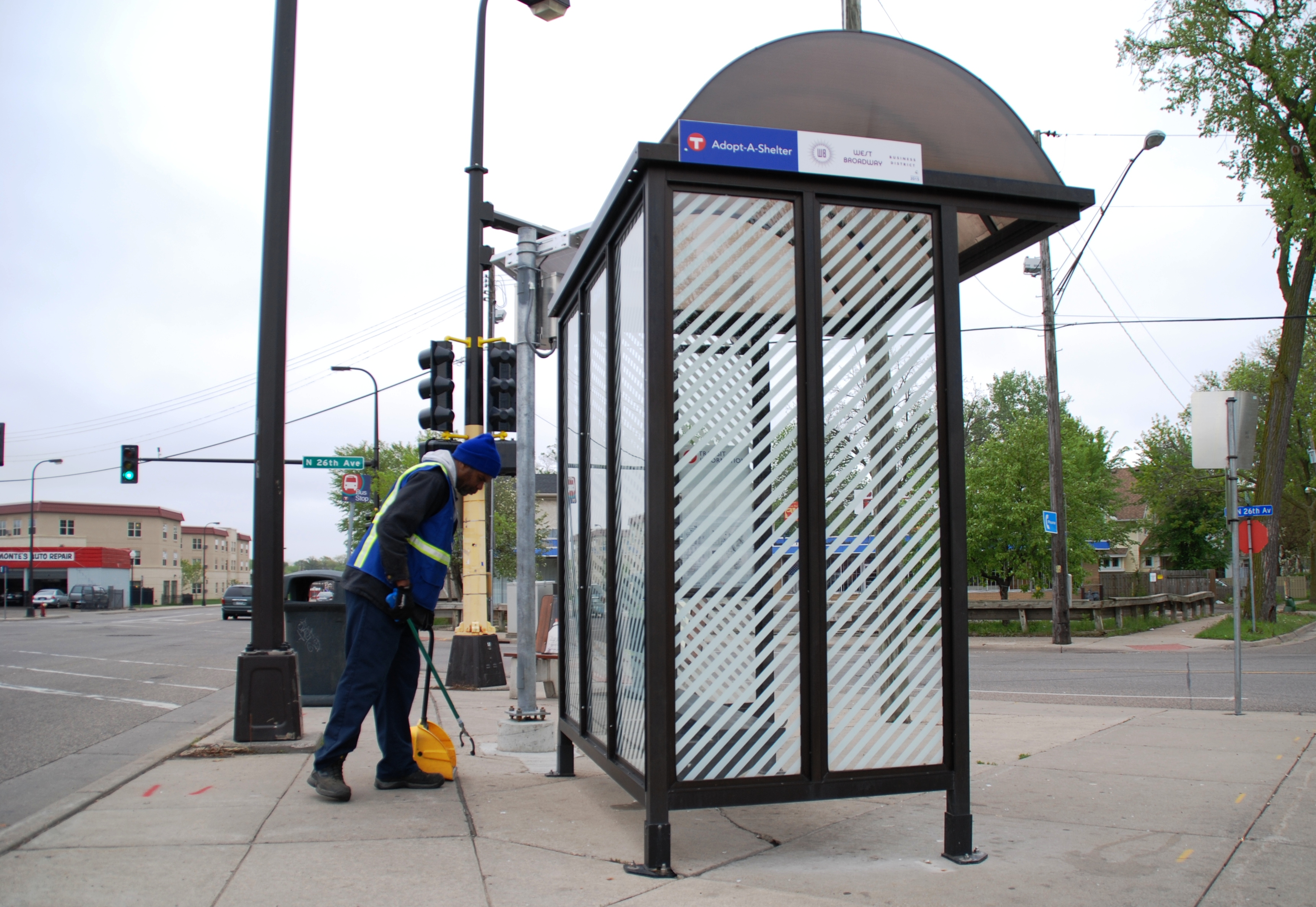 By: Drew Kerr
There are a few more watchful eyes making sure transit shelters along West Broadway Avenue are staying clean and safe.
The
West Broadway Improvement District
has adopted more than a half-dozen shelters along the North Minneapolis corridor, which stretches about two miles from the Mississippi River to Sheridan Avenue.
Clean-up crews hired to help maintain the special service district pick up litter at and between the shelters three times a week, supplementing maintenance performed by Metro Transit's Public Facilities staff. If there are issues like broken glass or graffiti, crew members are encouraged to inform Metro Transit.
Crew members come from
Better Futures Enterprises
, which provides employment opportunities for adults who have faced challenges in their lives.
To recognize the Improvement District's commitment, the group's name and logo is featured on the adopted shelters.
Board member Tara Watson, who owns two West Broadway businesses, said the adoptions are part of a broader mission to make the corridor a vibrant destination.
"In order to make change you've got to have your hands in certain things, and this is one of those things," she said.
After receiving approval from the city last year, the West Broadway Improvement District began providing services in January. In addition to cleaning the right-of-way, the district will support a branding effort through banners, holiday lighting and decorations. The district's initiatives are supported through a special assessment on property owners. (Property owners voted overwhelmingly in favor of the assessments.)
More than 60 shelters have now been adopted through Metro Transit's
Adopt-A-Shelter
program. The adoption of several sites is unique.
Businesses, individuals or groups that adopt shelters alert Metro Transit to special maintenance needs, report vandalism or other repair needs. Some adopters go beyond this commitment by performing light maintenance like litter removal.
Bill Hultberg, who manages the Adopt-A-Shelter program for Metro Transit, said assistance from adopters is critical to maintaining Metro Transit's network of more than 800 shelters.
"Having those extra eyes and ears available to tell us where we're needed is extremely helpful," he said. "With the help of our adopters, we can quickly identify and address issues and ensure our shelters are safe, secure and clean."
Bobby Hardimon is one of several crew members who works for Better Futures Enterprises. A 30-year resident of North Minneapolis, he said the clean-up efforts have already made a noticeable impact.
When he started going out a few months ago, it wasn't unusual for him to come away with several bags of trash. The load gets lighter every week, Hardimon said.
"People are starting to get more conscious about it," he said during a recent trip up the corridor."I'm even starting to see people do it on their own."
The shelter adoptions come amid the
West Broadway Transit Study
, which will identify future improvements on the corridor. Residents can learn more about the study at an open house at 5 p.m. on Thursday, May 21, at the North Community YMCA.
Photo: Bobby Hardimon, of Better Futures Enterprises, picks up litter near a shelter at Broadway and Sheridan avenues. Hardimon is one of several crew members who work on behalf of the West Broadway Improvement District to help keep the corridor clean.